Episodes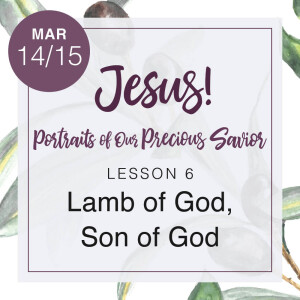 Thursday Mar 16, 2023
Thursday Mar 16, 2023
This week we searched the scriptures asking, "Where's the Lamb?"
In Genesis, God provided one lamb for one son (Genesis 22)

In Exodus, the people were instructed to kill one lamb per household or gather with neighbors together under one roof (Exodus 12)

In the sacrificial system, one lamb atoned for the sins of the whole nation (Exodus, Leviticus, Numbers & Deuteronomy)
But all these lambs could never really take our place.  For it is impossible for the blood of bulls and goats to take away sins. (Hebrews 10:4) So the question continued through the Bible: Where is the lamb who can fully and finally die in our place, once and for all so that we don't have to? The Lamb of God, the Creator of all lambs, was born in a manger in Bethlehem and came to do something that no other lamb could ever do. He came to give his life as the once-for-all-perfect-sacrifice. Our Passover Lamb. 
Jesus, the Lamb of God, one Lamb for

 the sins of the world!

(John 1:29)

Jesus, the Lamb of God, who is also the Good Shepherd (John 10; 1 Peter 2:22-25)
He committed no sin, neither was deceit found in his mouth. When he was reviled, he did not revile in return; when he suffered, he did not threaten, but continued entrusting himself to him who judges justly. He himself bore our sins in his body on the tree, that we might die to sin and live to righteousness. By his wounds you have been healed.  For you were straying like sheep, [do you hear Isaiah 53?] but have now returned to the Shepherd and Overseer of your souls.
Jesus, the Lamb of God, who is also the Door (Exodus 12; John 10) The Israelites went in through the blood-sealed door on the first Passover night and found protection and redemption. The next morning, they went out the same door, and out of Egypt and began their journey as a newborn nation. We are born into a new life through the blood of Jesus. 

I am the door. If anyone enters by me, he will be saved and will go in and out and find pasture.

(John 10:9)

Jesus, the Lamb of God, who is also the Bread of Life (John 6) When Jesus said, "

I am the Bread of Life,

"   he added,

 If anyone eats of this bread, he will live forever. And the bread that I will give for the life of the world is my flesh.

" Jesus celebrated Passover with his disciples for the last time in the Upper Room before he went to the cross. He gave his disciples bread and and after blessing it broke it and gave it to the disciples, and said, "

Take, eat; this is my body.

"(Matthew 26:26). Then he gave them the cup and said, "

Drink of it, all of you, for this is my blood of the covenant, which is poured out for many for the forgiveness of sins.

" (v. 28). 

Jesus, the Lamb of God, slaughtered for us, his body broken, torn, crushed. His blood poured out for us.